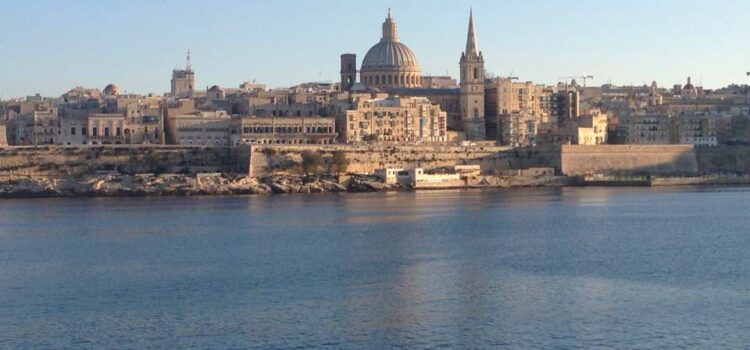 Places to visit, Why we love Malta…
Malta is a place of surprising diversity and no little history.
Precise knowledge of this island nation's past is usually limited to the fact that it was once part of the British Empire (from 1814 to 1964). It played a key strategic role in World War Two.
But Malta's story can be traced way back into the fourth century BC. Yes, this island has more to offer than kiss-me-quick hats and half-melted ice cream.
The Maltese Archipelago
Of course, referring to Malta as an 'island nation' is also something of an oversight. Technically, it is an archipelago of rocky outcrops. Only three, the main island Malta, Gozo and Comino, are inhabited.
Together they make up a mere 316 km² of land, but there's much to enjoy nonetheless. To name a few highlights, there is the delightful walled city Mdina, some small but lovely beaches, fabulous sea views and waters perfect for scuba diving, trendy Sliema and the night life in St. Julian's.
As the capital, Valletta is the key city of Malta. It is a delightful spot, standing proud on a short peninsula on the main island's north-east coast, and blessed with a visible history that saw it granted UNESCO World Heritage status in 1980.
But of course there is a lot more to discover and to experience.
Some interesting sites to visit in Malta.
Valletta, a magnificent City built for gentlemen by gentlemen.
When visiting Malta, the capital city Valletta is definitely a must see! One of Europe's most beautiful cities with a rich history dating back to the Knights of St. John who built the city in the 16th Century.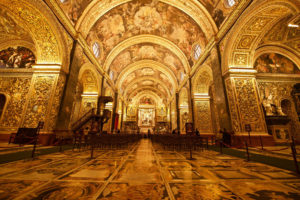 Valletta
Visit St. John's Co-Cathedral. A a truly magnificent building considered to be one of the world's greatest cathedrals. Have a look at its plain austere exterior and contrasting extreme baroque interior. Featuring a tapestry like flooring made of a series of marble tombs of the Grand Masters of the Knights of St. John. It is one of the most visited cultural attraction in Malta.
The Upper Barrakka Gardens from where you have a fantastic view of the natural Grand Harbour. A great place to have a relaxing drink in the well tended garden while enjoying the view. You can watch the reenactment and firing of the saluting battery daily at noon and 4pm. The reenactment is a fun activity to watch, not to be missed. A great spot to make picturesque photos!
Interested in learning a little about the history of Malta? Visit The Malta Experience, an audio visual show giving you an entertaining summary of Malta's history in just 45 minutes. The show is on daily on the hour from 10 am to 4pm.
If you happen to be in Malta while the Isle of MTV concert is on, it's also a great event to attend!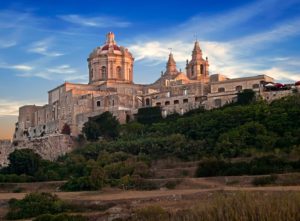 Mdina
Visit Mdina, the old capital city of Malta also known as the Silent City. Enjoy wandering around the winding tiny streets of Mdina enclosed by imposing bastions that surround the city. Mdina has a rich 4000 year old history featuring various invaders such as the Phoenicians, the Romans, the Arabs, the Knights, the French and the British… History lurking around each corner!
Mdina was home to the noble families such as the Norman, Sicilian and Spanish overlords.
Top rated tourist attractions in Mdina
The ramparts and bastions (for a great view of Malta)
The Cathedral of St. Paul
The Cathedral museum
The Palazzo Falson (museum of fine arts and antiquities)
Palazzo Vilhenna (natural history museum)
Mdina Dungeons
Palazzo dePiro (tools, trades and tradition museum)
Various chapels
Other attractions such as the Roman Villa, Catacombs of St. Agatha and the Grotto of st. Paul can be found in neighbouring Rabat which is within walking distance.
Dining in Mdina
If you fancy a break from tourist attractions, you cannot miss a taste of the sumptuous famous chocolate cake from the Fontanella tea Garden. Located high up on the ramparts of Mdina, the terrace of this tea Garden looks over the north east part of the Island. You will be able to spot sites like the Mosta Dome, the football stadium in ta' Qali, all the way to the sea in St. Paul's Bay and Mellieha and the areas of Sliema and St. Julian's.
In Mdina you will also find fine dining restaurants such as The award winning haute cuisine restaurant called the De Mondion located in one of the oldest properties.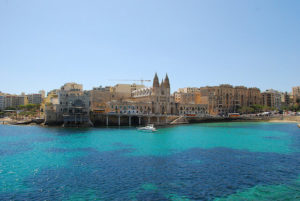 Sliema and St. Julian's
Hustle and Bustle
Sliema, whose name means in Maltese 'peace', is 3 km away from San Gwann or 30 minutes on foot. There are various bus routes linking San Gwann area to Sliema and St. Julian's.
Sliema is today the busiest business and shopping centre of Malta. When arriving in Sliema a 3 km long promenade invites to nice walks. Here not only tourists are to be found. In the evenings a lot of Maltese families come to have a chat and enjoy the fresh breeze of the sea whilst taking a stroll.
Nearly without any crossing you can easily continue walking to St. Julian's, which is located at about 2.8 km from San Gwann or 25 minutes on foot. It is an important tourist centre which used to be a small and cosy fishing village.
Numerous restaurants, bars and discotheques in the Paceville district attract thousands of tourists every night. The noisy clubs attract crowds of young people especially during the summer season when so many young language students are visiting the Maltese Islands.
A casino is located on the headland from St. Julian's to Sliema. While having a lovely walk along the coast, you will meet picturesque bays with colourful small boats called 'luzzus' which are the typical boats painted in many colours and with eyes painted on the front. You can also find many restaurants with romantic terraces which offer an amazing view over the sea.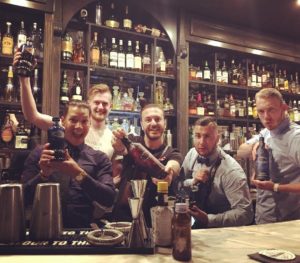 Pubs and Bars to visit in Paceville and St. Julian's
There are a number of interesting venues to visit away from the droves of teenagers.
The Thirsty Barber : serving a variety of cocktails entertainingly made especially for you by expert mixologists! Recommended for a great ambiance and a good mix of music. There is also a live band on some nights.The Thirsty barber is located on Ball street Paceville and is open every evening till late.
For a fantastic aerial view of St. Julian's head to Level 22 located on the 22nd floor of the Portomaso business tower. Level 22 is an exclusive wine lounge, prices for drinks are rather high but the surroundings and view are worth the visit. Opening hours are from Wednesday to Sunday 9.30pm till late.
If you love classic rock music, you will love The Long Hall Irish pub. Drinks are reasonably priced especially during Happy hour and simple pub meals also available. The decor is as Irish as you'd expect and the ambiance is very relaxed. It is located on St. George's road and is open from 10.00am till late.
Go on a Pub Crawl. These are organised every Monday and Friday in Paceville with a meeting point in the Paceville pjazza and every Tuesday another is organised in Valletta with a meeting point by the Triton fountain. For both locations the meeting time is 9pm.
The organisers take you to the coolest bars and you will have an entry drink included in each venue. They also organise some fun drinking games and competitions. A guaranteed night of Fun and making friends.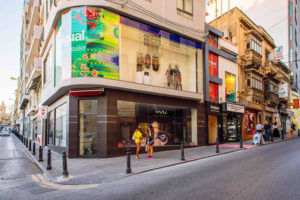 Shopping centres in Sliema and St. Julian's
Sliema boasts one of the main shopping centres for fashion of the Island.
On the main streets you will find the well known brands such as Zara, Next, Superdry, Furla, Stivaletti and Swarovski.
There are also 2 sizeable shopping malls, namely "The Point shopping mall" found in Tigne and "The Plaza shopping centre" found in Bisazza street. Between the two shopping centres you will find all the best brands under one roof. They are open all day from Monday to Saturday between 10.00am and 7.00pm.
The Point shopping Mall is also open on Sundays between 11.00am and 6.00pm.
In St. Julian's the main shopping mall is called "Bay Street shopping Complex" and is found on it's namesake street. This mall is open fashionably late from 10.00 am to 10.00pm daily including Sundays.
Have you ever wondered if most people in Malta speak English or Maltese as their first language? How do Maltese people typically pick up their Maltese and their English? Come and find out!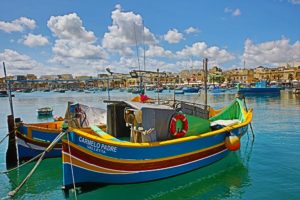 Visit the market at the picturesque fishing village of Marsaxlokk. This village is popular for it's daily market, it's fish restaurants and tranquil seaside walks around the coast. A great place to see the typical colourful Maltese Luzzu with the painted eyes keeping evil at bay!
Marsaxlokk which means the harbour of the south, was once the port from which the Turkish armada tried to launch an invasion of the Maltese Islands.
The San Luciano watch tower which was historically a lookout tower against an Ottoman siege, is now an aqua culture research centre and is open to the public on Saturdays for small groups.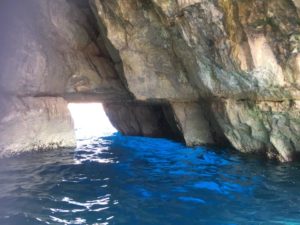 The Blue Grotto
It's best to visit the blue grotto on a sunny day in the morning when it's not too windy to be able to go and visit the caves by little fishing boat and enjoy the marvellous colour of the turquoise waters. It is one of the most beautiful and enjoyable sites! The boats operate everyday (weather permitting)
Winter time :from 9.00 am to 3.30pm and Summer time 9.00am to 17.00hrs
Boat fares are €8 for adults and €4 for children.
These caves are located on the southern coast of the Island very close to the town of Zurrieq. You can see the uninhabited Island of Filfla from this location. Nobody is allowed to go on Filfla because it was used as bomb target practice by the Royal air force during the second world war and there might still be some unexploded ammunition.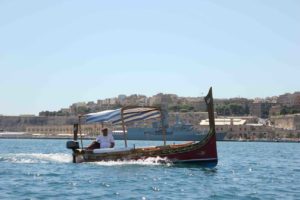 The Three Cities
To experience some real Maltese authenticity, head down to The 3 Cities namely Senglea (also known as L-Isla ) Vittoriosa (also known as Birgu) and Cospicua (also known as Bormla). Wandering round the narrow streets of Birgu and observing little things like plaques, door knockers and people going around their everyday business, speaking in their mother-tongue, will give you a real feel of Maltese culture.
Wander along the Marina in Birgu to admire the super yachts docked there. You will also find the Maritime Museum along the Marina which is worth a visit.
Other places you can visit are the Inquisitor's Palace and Fort St. Angelo. If you enjoy ghost stories, you'll learn about the grey lady who is said to haunt the Fort. At the Inquisitor's Palace you will find lots of stories about punishments and torture dished out to those deemed to be heretics.
From Birgu you can take a little walk over the bridge and cross over to Senglea from where you can admire the Birgu water front and see if from another angle.
You can also take a boat ride in a little typical boat around the grand harbour. It's a great way to look at Valletta and the 3 cities from the water to see them in a different perspective. The friendly boat man will take you to the most important sites and explain some of the history. He will also stop you to make some great snap shots.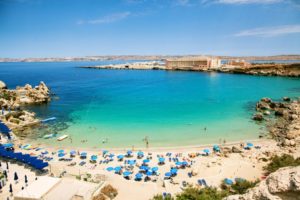 Beaches in Malta
Of course one of the things to do when you come to Malta between May and October is spend a relaxing day on the beach! In the areas of Sliema and St. Julian's most beaches are rocky, the sea is a beautiful blue colour and there are ladders to make it easy to get in and out of the water, no sand no mess.
The larger most popular sandy beaches are in the north of the Island namely Ghadira Bay in Mellieha and Golden Bay in Ghajn tuffieha. On the week-ends these beaches do tend to get crowded.
For a little more space you can opt to go to beaches which are a little more difficult to access.
Slightly less busy beaches
Riviera Martinique beach located close by to Golden Bay in Ghajn tuffieha is usually a little quieter as there are 200 steps to go down to it which may be off putting for some. The sand is a lovely red colour and there is a bar on the beach selling food and drinks and with bathroom facilities.
Paradise Bay is another sandy beach located in the furthest northern part of Malta just before Cirkewwa port from where you can take the ferry to go to Gozo.
It is best to go to this beach by car as the bus leaves you on the main street with still quite a bit to walk before you get to the beach. There is also a long flight of steps to get to it. From this beach there are lovely views of Gozo and Comino and the water is lovely, clean and clear. Restaurant and bathroom facilities are also available on the beach.
More secluded beaches
Imgiebah bay is a very small secluded bay located in Mellieha close to Selmun. You will need a car to get close to the beach and besides that access to the beach is through a little path down the face of a cliff. It's not for everyone but it's worth the effort if you want a peaceful day on an uncrowded beach. You should take your own food and drinks as there are no facilities on this beach.
Another beautiful rocky beach in the south
St. Peter's pool is a rocky beach in the south west part of Malta close to Marsaxlokk. This beach has a formation like a natural swimming pool and has fabulous cristal clear turquoise waters. There are ladders for easy access to the water and the rocks are flat so you can lay your towel out to sunbathe. There are no facilities on the beach so take a snack and drinks with you.
St. Peter's Pool is popular with the locals especially for taking Instagram selfies diving off the high rocks into the pool.
Since there are no bus stops close by it is best to get there by car. Week days are less busy too.
When visiting Malta,why not stay with the locals rather than an impersonal hotel?
For a more authentic stay in Malta, you could choose to rent a room with the locals – a friendlier and cheaper option too!
At our Looza room rental we offer guests rooms on the second floor of our home in San Gwann. You can choose between the following options :
Self-catering basis for total independence. You will have the liberty of preparing your own meals in the guest kitchenette on the same floor as your room.
Bed and breakfast basis
Half board basis. For those who would like to have a little bit more contact you can opt to have breakfast as well as dinner included together with the family.
Top Places to Visit in Malta