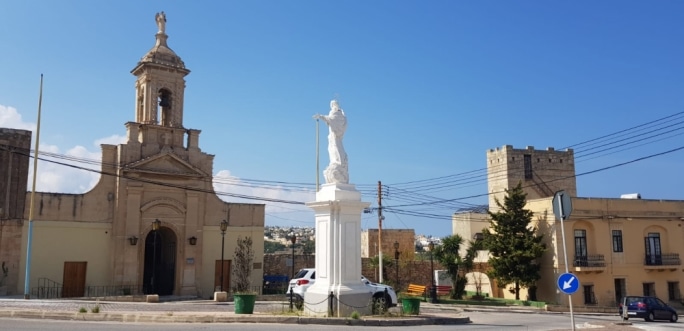 Little Town Blues
San Gwann is a central little town that links Sliema and St. Julian's with Gzira, Birkirkara and Naxxar.
The San Gwann suburb is mostly made up of relatively modern buildings. However, the few scattered archaeological remains found in the region suggest that San Ġwann has an ancient history which is woven into the national history of Malta.
Historical Sites in San Gwann
The oldest remains of human development in the locality are the cart ruts foundclose to Sant Andrija zone. These deep grooves cut into the rocks originate from Neolithic times when tools did not as yet exist and their use is still a mystery.
There are a number of old little chapels some with very interesting histories and stories of miraculous cures taking place.
There is also an underground flour mill dating from 1954. This flour mill was dug out after the second world war in order to store grain for the population in case of conflict as the Maltese Islands depended mostly on imported food particularly grain that provided the main staple diet.
Modern Day San Gwann
San Gwann's central location, combined with its beautiful villa areas and terraced houses have made it popular with the middle class population of the island. Because of its central position in the Island and its proximity to the University of Malta as well as the teaching Hospital it is a very practical place to live especially for Erasmus students and Medicine students. Apartment rents are usually also cheaper than in the more touristic towns of Sliema and St. Julian's.
From here the new teaching hospital Mater Dei and the University of Malta in Tal-Qroqq Msida are easily reached on foot. Public transport connects San Gwann with Sliema, St. Julian's, Birkirkara and Valletta, all only a short ride away. A main bus station next to the University of Malta and Mater Dei hospital offers direct routes to most parts of the Island.
San Gwann has seen a rise in the number of service industries, IT facilities and English language schools. There is a lively town centre with all kinds of shops, supermarkets, banks, offices, bars and cafes, and a post office. It has its own football club, village band club and also a bocci club, (a sport similar to the French Petanque.)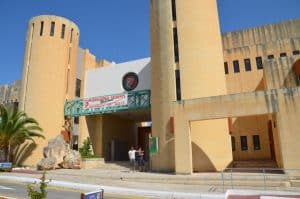 Shopping in San Gwann
When it comes to shopping in San Gwann you will find everything you need. In fact San Gwann is quite spoilt for choice when shopping for groceries as there are a large number of grocery stores, convenience stores, fresh vegetable shops, butchers, fish shops and of course a large Lidl supermarket with competitive prices.
There is also a choice of pharmacies, stationaries and a few clothes shops with good prices.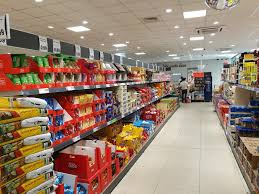 Some places to eat and drink in San Gwann
A number of well known coffee shops and Food outlets have newly opened within the Campus Hub at the University of Malta.
Cafe Cuba, Starbucks, Amami, Burger King, Pizza hut and others are just down the road from Looza at 5 minutes walking distance.
Eeetwell: A newly refurbished restaurant serving healthy meals and snacks at reasonable prices. They also offer deliveries.
Okurama Hong Kong Duck : An Asian fusion restaurant serving Japanese sushi, Hong Kong roast duck and many other Asian dishes. You can choose to eat a la carte or take their buffet price with all you can eat.
Eat me I'm famous : Serving good pizzas, burgers, pastas and fast food style food.
Emma's Kitchen : Serves breakfast, lunch and coffee at reasonable prices. Open from 9.00 to 15.00hrs
Da Roberto : Il gusto dell'Isola : Sicilian cafeteria with delicious cakes and cannolli. They also serve a variety of snacks. Open from 8 am to 11pm
Some sport facilities in or near San Gwann
24/7 Fitness Club San Gwann. This gym is well equipped with cardiovascular and various core training equipment. It stays open 24/7 but can get busy in the evenings. Members can take part in various classes all included the the membership fee. You can also book a coach to guide you for an additional fee.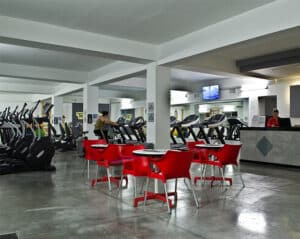 Kinetika : A well equipped gym on the grounds of the National Pool Complex. Students can get a discounted membership when you show your student card or letter of acceptance. (a monthly membership for students is €38) A separate membership is required to use the national heated swimming pool also in the same location.
There are also a few dance schools in the area such as The School of Dance specialising in Ballet classes (also available for adult beginners), Baila school specialising in Salsa classes, Zumba Elaine offering classes in Zumba and Pilates.
The Warehouse Gym : Another well equipped gym located in the University Campus Hub just down the road from Looza residence. Fitness classes are also offered and lockers and lockers and showers are available for members.
Looza is your affordable and comfy homestay, located in the centre of Malta in the little town of San Gwann overlooking a valley of typical terraced fields, the University of Malta and Mater Dei hospital. It is also conveniently located close to shops, and bus stops and a few kilometres from Sliema, St. Julian's and Valletta.

You don't have to be a student to stay at Looza, everyone is welcome!
Friendly student Rates
Student room rates start at as little as €12.50 per person per night. See our
Looza Rate card
.