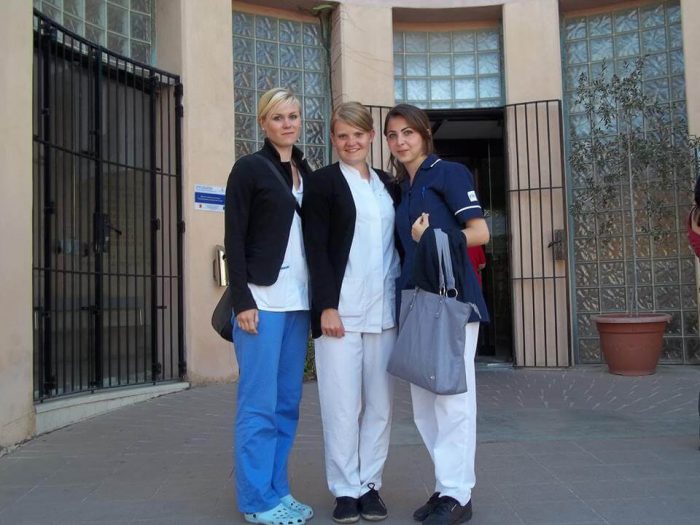 Why choose Malta to do your elective placement?
The weather in Malta is warm for most of the year.
It is also relatively cheaper than other destinations.
Mater Dei Hospital is the only main hospital on the Island, hence the great opportunity to observe a wide variety of interesting cases.
The Medical elective programme in Malta offers students studying Medicine outside Malta the opportunity of a supervised placement in the national state funded hospital.
Mater Dei Hospital is a new state of the art hospital; a great environment to enhance your medical experience. Malta has a very good health care system and has been ranked 5th in the world by the World Health Organisation.
Fun! You will meet other students from other countries through the Medical student's association who also organise events such as outings and barbecues.
You will also get to compare educational systems between students from different countries.
A great majority of the population speak English in Malta and whenever the Maltese language is used consultants make it a point to translate.
The programme runs all year round.
So why not do your elective in Malta, take advantage and mix learning with pleasure !
How to apply
This programme is run by the Malta Medical Students' association in collaboration with the University of Malta Faculty of Medicine and surgery. Applying for your elective is relatively simple.
In order to apply you will need to submit an application form to the MMSA electives coordinator. You will need a letter of Recommendation from your university confirming that you are a medical student and a passport photo.

If you require a Visa to travel, you will need to send a copy of this too.
Requirements to apply :
a Police conduct certificate (this should not be more than a month older than the date of application)
A Malpractice Insurance
In case English is not your first language you will also need a letter from your University stating that your level of English is adequate to follow the Medical electives Programme.
When you have submitted all the documents you should receive a provisional letter of Acceptance from MMSA.
You will then need to submit a Health form signed by your doctor with results of some blood samples.
You should receive a letter of acceptance around 2 months prior to the commencement of your medical elective placement.
You will also receive an invoice with the total amount payable.
50% of this amount must be settled 30 days prior to your arrival date in Malta. The remaining balance is paid on the first day of the placement.
You can download the application form hereunder.
Working hours on your placement
Working hours are generally between 8.00am and 2.30pm, however this can vary depending on your consultant.
On the first day you will be given a show round of the hospital at 7.45am
Rotations and Length of placements.
You may opt for a rotation in more than one speciality. However it would be best to spend a minimum of 2 weeks on each rotation.
There is no limit to the length of your stay.
In which hospital will I do my elective?
Electives are placed in one of the following hospitals according to the speciality chosen :
Mater Dei hospital (all specialities except for Geriatrics, Oncology and Dermatology)
Karin Grech Hospital (Geriatrics)
Sir Paul Boffa hospital (Dermatology and Oncology)
How much Does it cost to Enrol for a placement in Malta
An elective of 4 weeks comes to €375 and is broken down as follows :
Application fee €75 (paid once) + €75 per week administrative fee.
You will need to pay an extra €75 if you need a Visa. ( paid once not per week)
50% of the amount is paid when you receive the letter of acceptance and must be settled 30 days prior to your arrival.
On the first day of your placement the remaining balance must be settled.
Nursing elective in Malta
For Nursing electives, students should contact the Department of Nursing studies at the University of Malta and express your interest in enrolling for a Nursing clerkship.
Electives during times of Covid
Medical electives will be resuming again starting from 5th July 2021 however should the situation change they may be resuspended.
Medical students must have proof that they have been fully vaccinated with the 2 doses of the vaccine at least 10 days prior to the commencement of their placement.
Accommodation close by to Mater Dei Hospital.
We offer 2 types of accommodation :
Shared accommodation at Looza (like a flat share/homestay on a seperate floor)
An independent modern one bedroom apartment called Vista
Our accommodation at Looza residence and our Vista apartment are especially ideal for Medical electives due to their superb location so close to Mater Dei hospital. (we are located within 10 minutes walking distance)
Supermarkets and shops and bus stops are at a 5 minute walking distance too.
There will be no need to catch any buses every morning to get to Mater Dei hospital.
Karin Grech hospital and Sir Paul Boffa Hospital are just a short bus ride away.
Our accommodation is also of superior quality to the shared apartments offered by the University of Malta that are often not well maintained and have no air-conditioning.
Shared accommodation at Looza
At Looza, we offer comfortable rooms for single or shared use with self-catering facilities similar to a flat share.
In a twin shared room you would share with maximum one other person. You may also reserve the room for single use and have it all to yourself.
Rooms have an air-conditioning unit and also a ceiling fan for your comfort during the summer months.
Looza has a lovely sun terrace furnished with garden furniture, bar-b-que and plants for your enjoyment and all within very close proximity of the hospital.
Vista Apartment – Independent one bedroom Apartment
Vista apartment can be rented as a whole for you alone for total independence.
This apartment is a modern, tastefully decorated apartment equipped with a modern kitchen, washing machine, air-conditioning and also has wifi internet and tv connection. It is a one bedroom apartment with 2 single beds. The living room is air-conditioned and there is a ceiling fan in the bedroom.
Both our accommodations are very well suited for students on a medical elective in Malta.
Testimonial from our guestbook :
The location is perfect if you have a placement at Mater Dei or are studying at the University both of which are less than 10 minutes walk away. There is a large bus terminus at the hospital where you can catch a bus to pretty much anywhere on the island. The accommodation is clean and comfortable and the kitchenette is very well equipped. There is a large roof terrace which is perfect for evening meals. The internet connection is fast and reliable. I chose to have breakfast included, which was delicious and very reasonably priced. Stefie and George are very friendly and helpful. I would definitely stay here again if I come back to Malta! Andrew from Scotland (Guest at Looza Residence)
Enquire for accommodation at walking distance from the hospital for a carefree stay.
Medical elective programme in sunny Malta